31 Chic Winter Outfits to Copy Now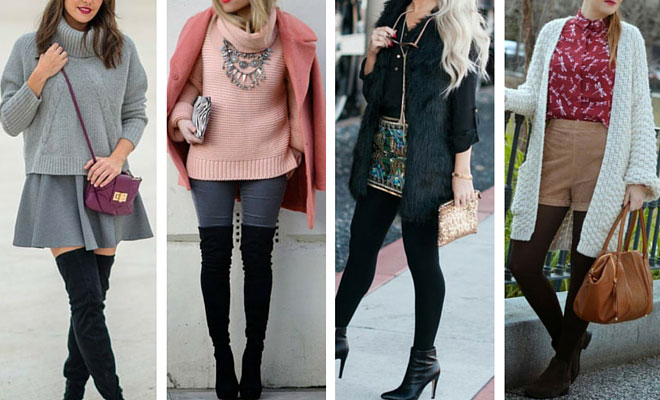 FASHION
It's always difficult making that transition between your summer and winter closet but with these chic winter outfits, you may even find you could use most of your summer wardrobe clearly into the cold months too!
Take a peek at these 31 stylish looks if you need a little hand getting into the swing of things!
1. FAUX FUR FASHION
Faux fur was all over the catwalk for the winter 2015 collections and big names such as Dior, Fendi, Ralph Lauren and Celine were all rocking this fabulous winter look. Throw a pastel colored coat on over black jeans and a black rock-style tee and you have a look that is spicy and sweet all at the same time.
2. FAUX FUR VEST
If a faux fur jacket intimidates you a little, dip your toes in the water by simply adding a faux fur vest over the top of your outfit. This look is perfect for the upcoming holidays, right?
3. FAUX FUR COLLAR
For a smart look, simply add a jacket with a faux-fur collar. You're still keeping up with the winter 2015 trends but at the same time keeping it classic, elegant and simple. Matching your shoes with your fur will also help make the look 'pop'.
3. WINTER WELLIES
Who said jumping in puddles was just for kids? "Wellie-boots" or rubber boots now come in every color and design you could think of making it easier than ever to slip them in your every day fashion. Keep things simple by matching the boots to your outfit and you have a look that is both practical and cute. What more could you ask for?
4. LITTLE RED RIDING HOOD
This look is perfect for winter 2015 and combines two things that are very on trend – the color red and the cape! Both of which were paraded around the catwalks by almost all of the big designers. Team a matching boot-and-cape combo with some plain jeans and you have a super-quick look that is both elegant and classy. You could even throw on a hat too although this is optional.
5. BRAVE & BELTED
Big belts were all over the winter 2015 collections and if you're trying one for the first time, keep things simple by wearing a cape or an oversized scarf and using your belt to keep it in place. Perfect for those days where it's not quite warm enough for a coat but not cool enough for nothing at all.
6. IT'S A CAPE THING
This is a maternity look but definitely doesn't look like one! The humble cape is the simplest way to cover up for winter and it looks super stylish too. Plus with a cape, you can wear it no matter how big you get so it's definitely a great idea if you're pregnant or planning to get pregnant soon! A cape could be your best friend!
7. COMFY KNITS
You sure can't beat wrapping up warm when the cold weather comes and what better way than with the biggest, comfiest, softest sweater you own? Team it with your cutest skirt, featured tights (like these spotty beauties) and cute little pumps for a look that is super cute yet warm all at the same time!
8. LAYER IT UP
The easiest way to keep warm is to layer up your clothes so why not do just that this winter? Keep the jeans and tees with the sneakers you were wearing this summer and pair them with a cute slogan sweater AND a big chunky cardigan on top. This look just shows you how simple picking your winter closet could really be.
9. PERFECT PLEATS
Pleats were all over the catwalk for winter 2015 and the easiest way you can wear them is shown here – a simple black, pleated skirt with a simple red cross-over style top. In fact you could go for any color you wanted but the more festive the better! Team it all with black tights to keep your pins nice and warm and you have a winter-ready outfit. You could always the swap the crossover top for any number of options too – a cute sweater, a rocky-style tee, or even a white collared blouse. The possibilities are endless.
10. BOYFRIEND JEAN DREAMS
You can still wear your boyfriend jeans for winter but instead of pairing them with a cute, flirty little top and some killer heels, team them with some super cool boots and a simple comfy, sweater combo instead. It keeps things casual and if the weather should turn bad, you won't be sliding around in the ice in a pair of four inch stilettos. Much more practical and super cool to boot!
11. JUST ADD TIGHTS
Any outfit is instantly winter-ready with the help of a pair of tights and they don't just need to be black either. You could opt for brown thick tights to meet the nudey / reddy hues in this outfit, or go for patterned ones if you like. Just be sure to keep the top simple if you do.
12. THE TRENCH COAT
The humble trench coat has been a winter-wardrobe staple for many years but for winter 2015, it's been reinvented. Make it bigger, thicker, longer, add a belt, roll the sleeves up… It's a really versatile coat so why aren't you being more versatile with it?
13. THE GRAY SKIRT
You know that gray skirt you bought but never got around to wearing because somehow, it just never seemed appropriate? Well, throw on some tights, add some over-the-knee boots, pair it with a simple gray sweater and burgundy accessories and what do you have – a simple, elegant winter outfit!
14. WET LOOK LEGGINGS
OK, so they're not a look that everyone can pull off or would want to, but to bring a real edgy, rocky appeal to your winter, why not try pairing wet look leggings or jeans with some cute ankle boots and an oversized cardigan? Simple, effective and it'll keep you warm. What more could you want?
15. BOHO OUTFIT
You wouldn't normally associate boho babe with the cold winter but you can do it in style with the right combination of garments. Simply pair flared jeans with some (sensible) flat boots (for the ice) and keep the look  breezy and floaty with multiple layers and you have about the right idea.
16. FRINGE FEVER
If you're not quite brave enough to rock a fringed skirt or jacket and keep up with the latest trend of winter 2015, why not take a slightly more discreet approach and opt for a fringed bag? It's a great way to keep that feature in your outfit without going too over the top.
17. TRENDY ARMY GREEN
Army green doesn't really ever go out of style and when you keep things simple with this jeans and court-shoe combo, it's both simple and elegant. Plus if you go for a waterproof jacket, you won't get wet either!
18. TAILORED BLACK PANTS
Smart, tailored black pants are a must-have staple for an all year round closet. You can wear them with a smart white shirt and heels for a great yet sexy look for the office. You can liven things up with leopard print pumps like the model has done here. You can also create the perfect winter outfit around them, adding a cute pair of flats and a knitted sweater to keep things warm and cosy.
19. STATEMENT SHOES
Everyone was doing statement shoes for the winter 2015 and as the likes of Sophia Webster, Miu Miu and Celine coming out with out-of-this-world designs, it pays to take a closer look at your choice of footwear.
Whatever outfit you choose to rock this winter, make sure you add the right shoes. These beautiful Tiffany-blue ankle-tie delights are simply stunning but are just one example of how you could play around more. Think colors, textures, different heels, etc. It doesn't need to be a skyscraper stiletto either. Block and stack heels are just as 'in' for the season.
20. RIDING BOOTS
Winter is the perfect opportunity to get out those riding boots you've had hiding in the back of your closet and when you mix them with a simple skinny pair of jeans and a sweater / blazer combo, you have a look that could be casual or slightly smarter, and when teamed with the right accessories, could even be a great look for an evening event too!
21. SILVER SEQUIN VEST
To add a bit of bling to your festive outfit, you can't go wrong with a few sequins. Going for something such as a simple sequinned vest like this sparkly little silver number is a great way to add the trend to your outfit without feeling like too much of a glitter ball. If you've never work sequins before, they can be overwhelming but start small and work your way up and you'll soon get the hang of what's hot and what's not.
22. SUPERSIZED SHIRT
The supersize shirt has many purposes. For winter it provides an extra layer with a little something added. For the summer you could wear it over shorts and a simple white vest. There are a hundred ways in which you could wear it and we think you should reinvent it for this winter. Simply add a belt to keep it feminine and show off your waist.
23. THE WINTER COAT ADDITION
Just because summer is over doesn't mean you need to retreat your summer closet to the attic or basement. You can wear many of the things you would normally wear in the summer if you learn how to accessorize them properly to go hand in hand in winter.
This look would have been adorned with cute heels in the summer and there would have been no need for a coat or a jacket. For the winter, add a pair of beige ankle boots, throw on some translucent stockings or tights, and pair with a matching coat and bag combo. Wear your summer clothes with pride!
24. CLASSIC CONVERSE
Everyone's wearing these classic Converse these days and there's a good reason for that – they are so versatile. A cute black pair of pumps just like these can be just as easily worn with pretty little summer dresses as they are with jeans and a jacket for the winter.
25. PRETTY IN PINK
You always think of baby blue when you think of winter – the snow looks almost white and blue together, doesn't it? Why not add your very own festive touch with a bright pop of color such as a coral pink coat. Plus it gives you an excuse to rock a comfy pastel pink sweater just like this one and it looks super warm!
26. CRAZY CAT CASUAL
You can't call yourself a #crazycatlady if you don't own an item of clothing with your favorite animal emblazoned across it. Plus let's face it, it's a really cute sweater. Let your inner cat lady free and bag yourself an cat sweater. Rock it jeans, a cute little skirt, or even smart black trousers as shown here.
27. HIS SHIRT
Male shirts always look better on women anyway and if you've spilt something down your own top or for some other reason, need to wear one of his, just own it with some heeled booties and skinny jeans and you've got yourself a winning combo. It's effortlessly cool.
28. THE TARTAN SKIRT
You might not immediately think of a mini-skirt when hitting the colder, wintery months but a tartan / plaid mini-skirt team with a fluffy, white oversized sweater and cool knee-high boots is just the perfect look. You could add tights if it's too cold to go bare legged and you could also add ankle boots rather than knee-highs for a cuter appeal.
29. BUTTON DOWN SKIRT
This model is sporting a denim button down skirt which is one of the easiest ones you can wear. Pair it with a simple tee and some super-cool boots for a look that is winter-ready and completely effortless.
30. LEATHER JACKET LOOK
The black leather (-look) jacket should be a staple ingredient of any woman's closet and if you don't have one yet, you don't know what you're missing. It instantly rocks or 'sasses' up an otherwise dull outfit and can be teamed with pretty much any item of clothing you like. Whether it's jeans and boots, a pretty black dress or short jeans in the summer, the leather jacket goes with pretty much everything.
31. A POP OF ORANGE
It's easy to get carried away with the dreary grays and blacks of winter but why not consider adding a hint of a really rich color to get things nicely warmed up? What better, warmer color than orange?
So there you have them – 31 of the coolest winter looks you could be rocking this year. Isn't it time you gave your closet a bit of a revamp?