20 Thanksgiving Nail Art Ideas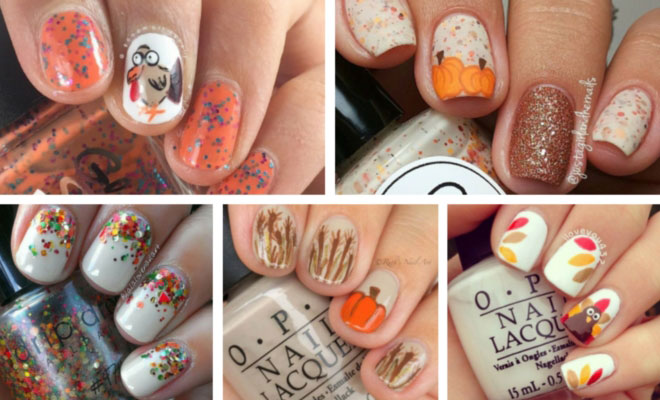 INSTAGRAM
BEAUTY
By 
 | 
When people think Thanksgiving, they think family, celebration, turkey…us? We think seasonal nail art. Pretty, festive nail designs are our favorite way to get into the holiday spirit.
There are so many beautiful and festive ways to do your nails for Thanksgiving. We've searched Instagram for the best nail art ideas so you don't have to, and found 21 amazing looks that will help you get in the mood for one of the most popular holidays of the year.
1. PINK NAILS + COLORFUL TURKEY
Looking for a cute and girly Thanksgiving manicure? This super-adorable Turkey-inspired nail design is sure to brighten up your day.
Products used: OPI "Pink Friday", Essie "Blanc", and Wet'n'Wild "Hallucinate".
2. PUMPKINS + GLITTER
Add a little sparkle to your holiday nails by painting one nail with gold glitter. A sparkly accent nail will instantly transform your simple manicure to a snazzy one.
Products used: L'Oreal "I Like it Chunky", OPI "Matte Top Coat" and Noodles Nail Polish "Pumpkin Spice".
3. TURKEY ACCENT NAIL
We absolutely love when women get festive with their nails, especially when they create one of the cutest turkey nail arts we've ever seen. The design is perfect for beginners in the nail art world. The white nail polish is OPI "Alpine Snow".
4. TURKEY TUTORIAL
Turkeys and feathers are one of the most popular Thanksgiving motifs, and with the help of this simple nail tutorial, you can easily have them painted on your nails. Painting a turkey on your nails doesn't seem difficult anymore, right?
5. CANDY CORN OMBRE DESIGN
This candy corn ombré design can last you from Halloween all the way to Thanksgiving. The best part about this festive look? It has zero calories.
Products used: Zoya "Snow White", "Beatrix" and "Solange".
6. FALLING LEAVES
While definitely not suited for a nail art newbie, this design is sure to bring you compliments at the Thanksgiving table. The design is perfect for those who aren't into turkeys, feathers, and pumpkins.
Products used: OPI "I Just Can't Copa-cabana", "Where Did Suzi's Man go", "Cajun Shrimp", "Big Apple Red" and "Bubble Bath".
7. OMBRÉ SEQUIN FADE
You're bound to have the prettiest nails at the table with this cute and sparkly design. This sequin nail polish by Drip Drop Nail Paint is like autumn in a bottle. Agree?
8. CUTE PUMPKINS
Bring cuteness to Thanksgiving with this lovely design! We love that the base color is nude because it makes the orange pumpkins really pop. We think a matte top coat would finish the look off perfectly.
Products used: OPI "Chromatic Orange", "Is Mai Tai Crooked" and "Be There is a Prosecco".
9. BLACK & GOLD DESIGN
Whenever you pair black and gold together, you know that you'll end up with a fabulous manicure. This black and gold glitter design with a floral accent nail is the perfect match for a pretty cocktail dress. Give it a try!
Products used: OPI "Black Onyx", Painted Polish by Lexi "#PSL", and acrylic paint.
10. GOLD LEAVES + STUDS
How could you not love this simple yet gorgeous fall manicure? It's the perfect choice for those looking for a different, non-traditional take on holiday nail art. Dark purple is the perfect base for these gold falling leaves and studs.
Products used: OPI "O Suzi Mio" and Essie "Good as Gold".
11. LIGHT BROWN NAILS + TURKEY
Turn a simple, nude manicure into a festive one, by painting a turkey and feathers on your  accent nail. To make the design a bit fancier, adorn it with a coat of micro-glitter polish. It will give your manicure a subtle shimmer.
The glitter top coat is SinfulColors "24 Karat".
12. FALL WATERFALL NAILS
For this design, collect all your fave fall nail shades – from browns to rusted reds, and everything in between. Start with a nude base coat and let it dry. Then add thin strokes of chosen shades using a detail nail art brush. Accent the look with gold glitter. The result is surprisingly gorgeous, right?
13. CANDY CORN POLKA DOT GRADIENT
Here's another take on the candy corn manicure. This one features combination of orange, yellow and white polka dots in different sizes. The design is super easy to do, especially if you have a dotting tool set in your nail art kit. If you opt for this delicious design, just try not to bite all your nails off!
14. PUMPKIN ACCENT NAIL
Pumpkins are a fall staple. The season wouldn't be complete without these delicious squashes. Due to their bright orange color, they make rainy days more bearable. So, why not paint a cute pumpkin top on one of your nails? The dark nude base is OPI "Did You Ear About Van Gogh?".
15. BROWN NAILS + GLITTER FADE
This Thanksgiving, create autumn elegance on your nails using just two polish colors – a dark brown base, and a colorful glitter top coat. The design reminds us of falling leaves that are collecting in piles on the ground.
Products used: Essie "Sable Collar" and Drip Drop Nail Paint "Fall Foliage".
16. POLKA DOT + CHEVRON DESIGN
This creative look somehow managed to make us even more excited for Thanksgiving. We love how the design incorporates bold patterns and fall colors in an innovative, festive way.
Products used: China Glaze "White Out" and "Golden Enchantment" + OPI "Suzi Loves Cowboys".
17. DARK RED + GOLD GLITTER DESIGN
Keep it seasonal with dark hues and fall leaves. We love the color combo on these. The look screams "fall". Products used: OPI "My Favorite Ornament", and "In the Cable-Car Pool Lane".
18. PUMPKIN + THANKSGIVING COLORS
Not only is this manicure super easy to do, but is also super cute! Opt for this simplistic design if you don't have time to do your nails, but still want to get into the Thanksgiving spirit.
19. ORANGE GLITTER NAILS + TURKEY ACCENT NAIL
Bring a hint of Thanksgiving to your manicure with a tiny turkey. The turkey might take some steady painting skills and time, but the end result is worth the effort. The sparkly orange shade is GlossNSparkle "Sweet Charity".
20. PUMPKIN NAILS
These pumpkin nails make us warm and fuzzy. Also, we love these fall colors together!
21. POLKA DOT THANKSGIVING NAILS
What's better than a turkey painted on your nails for the holiday? This cute manicure works on any nail length. Try it if you want to make your hands pop.