20 Luxury Gifts Every Girl Wants in Her Closet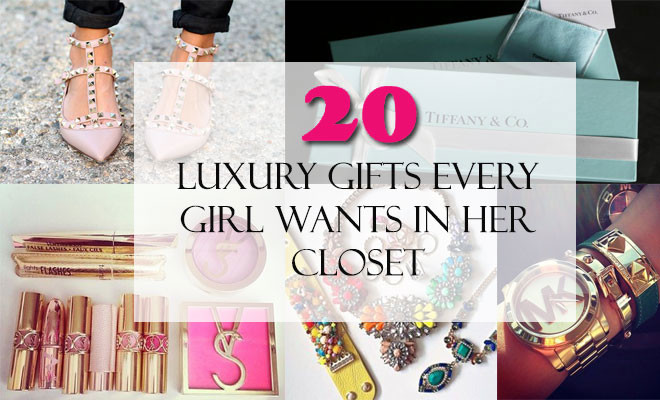 BEAUTY
20 Luxury Gifts Every Girl Wants in Her Closet
1. UGG BOOTS
Ugg boots have been known for their comfort and layers of sheepskin – it's no wonder that so many women have fallen for them. They are perfect footwear for cold winter days – they'll keep you warm, dry and stylish.
$270, at Ugg Australia
2. YSL CLUTCH
This classic clutch in black leather with gold YSL signature is a perfect evening bag. It has enough room for a phone, lipgloss and a credit card. YSL bags are punchy accessories that'll add instant edge to your fashion looks.
$995, at YSL
3. MIU MIU WALLET
This small black wallet by Miu Miu is crafted from the finest leather. Every girl would like to treat herself with thiselegant, timeless, and just plain gorgeous wallet.
$195, at Miu Miu
4. MICHAEL KORS WATCH
No woman's fashionable wardrobe is complete without the chic and functional watch. For this luxury list, we chose super popular Michael Kors watch. With it, you can't lose track of time! There are various styles and colors available so every girl can choose a watch that fits her.
225$, at Michael Kors
5. ALEXANDER MCQUEEN SCARF
Alexander McQueen's scarf can be a perfect touch of gothic flair to women's outfit. Designer's iconic skull motif makes it's instantly recognizable. This scarf is one of those accessories that has timelessly-cool look.
$295, at Alexander McQueen
6. JIMMY CHOO SANDALS
These shimmering ankle-strap design is so sexy but yet so elegant. Perfect pair of sandals for glamorous evenings, if you ask us. In Jimmy Choo shoes you'll feel like a Cinderella.
$780, at Jimmy Choo
7. VALENTINO FLATS
Every girl needs a pair of flats that are classy but comfortable. Valentino flats are perfect pair of shoes for casual days when you want to take a break from heels. They are wearable on denim and formal dress. Even women who hardly wear flats, gone crazy for them. Do you want this statement piece in your closet, too?
$875, at Polyvore
8. MICHAEL KORS LUGGAGE
This logo brown rolling carry-on is every girl's perfect travel buddy. Michael Kors luggage will make your travels fashionable and stress-free. It's perfectly sized so you can take all your favorite fashion items on a long trip. Travel in style!
$798, at Nordstrom
9. TOM FORD SUNGLASSES
Indulge your sense of style with these luxurious sunglasses from the alluring Tom Ford collection. 'Nastasya' sunglasses are futuristic fusion of fashion-forward flair coverage and retro curves. This model is jaw dropping!
$380, at Tom Ford
10. DIAMOND RING
Diamonds are a girl's best friend, right? That's why we included a diamond ring on our list. This gorgeous ring by Bony Levy is handcrafted from the finest materials.
$1,650, at Nordstrom
11. SHOUROUK NECKLACE
There's nothing like a little bit of sparkle to brighten up the day, and this statement and colorful Shourouk necklace will certainly do the trick. Every girl would feel like a queen with this amazingly beautiful 'Appolonia Rainbow' necklace. The necklace is embroidered with Swarovski elements, painted  stones and crystals. This is the type of jewelry that can't be missed in the public. Thanks to its amazing colors, lucky owner will have the perfect complexion.
$965, at Shourouk
12. STELLA MCCARTNEY BEANIE
Cute beanie with a fuzzy pompom is a perfect accessory for cold winter days. For this beanie, you'll need to set aside $200.
$200, at Nordstrom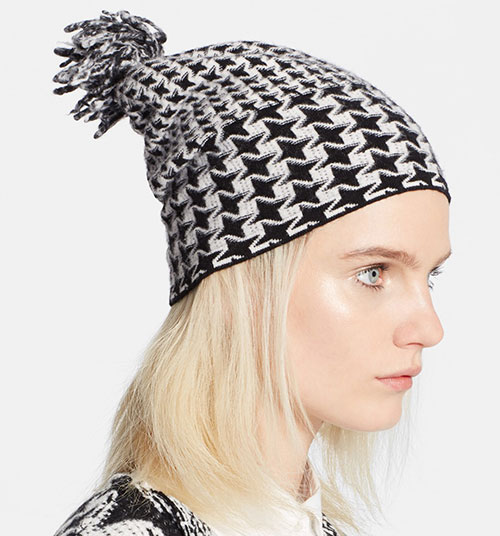 13. TORY BURCH LEATHER BELT
Black leather belt is a must-have item in every closet. We included Tory Burch model on our list because it's timeless black and gold belt. This model has different shade on each side so you have 2 belts in 2 – black and brown.
$185, at Tory Burch
14. HERMES BRACELET
Famed stylist, Rachel Zoe, constantly claims that the best gifts come in an orange box from Hermes. Would you agree? Hermes treats us to a feminine yet fancy all-year accessory.
$650, at Hermes
15. CHANEL NO. 5 PERFUME
Chanel No. 5 is the legendary fragrance that has cast a spell on millions of women around the world – including Marilyn Monroe. If you want an original timeless classic, your choice should be No.5.
$325, at Chanel
16. HERVE LEGER BANDAGE DRESS
Herve Leger signature dresses shape the women's figure and mold the body with bandage-like material. This sexy dress is instantly recognizable.
$1,300, at Herve Leger
17. ROBERTO CAVALLI SWIMSUIT
Our luxury wardrobe should have a high-end swimsuit, too. Design and colors are important but  women also want be sure that everything will be lifted and held in place. That's the reason why we choose Just Cavalli swimsuit.
$310, at Roberto Cavalli
18. AGENT PROVOCATEUR LINGERIE
Sexy and luxury lingerie? Yes! Agent Provocateur has some amazing and seductive pieces. For his eyes only…
$745, at Agent Provocateur
19. YSL MAKEUP SET
Your makeup bag is incomplete without YSL makeup! YSL makeup is the beauty secret of the world's top makeup artists.
Lipstick: $35, Foundation: $60, Eyeshadow palette: $60 at YSL Makeup
20. TIFFANY EARRINGS
Earrings are the most flattering piece of jewelry that a woman can wear (especially if they're diamond earrings). This classic design is always fashionable.
$1,200, at Tiffany& Co.